The District Review
An Early Childhood Education Breakthrough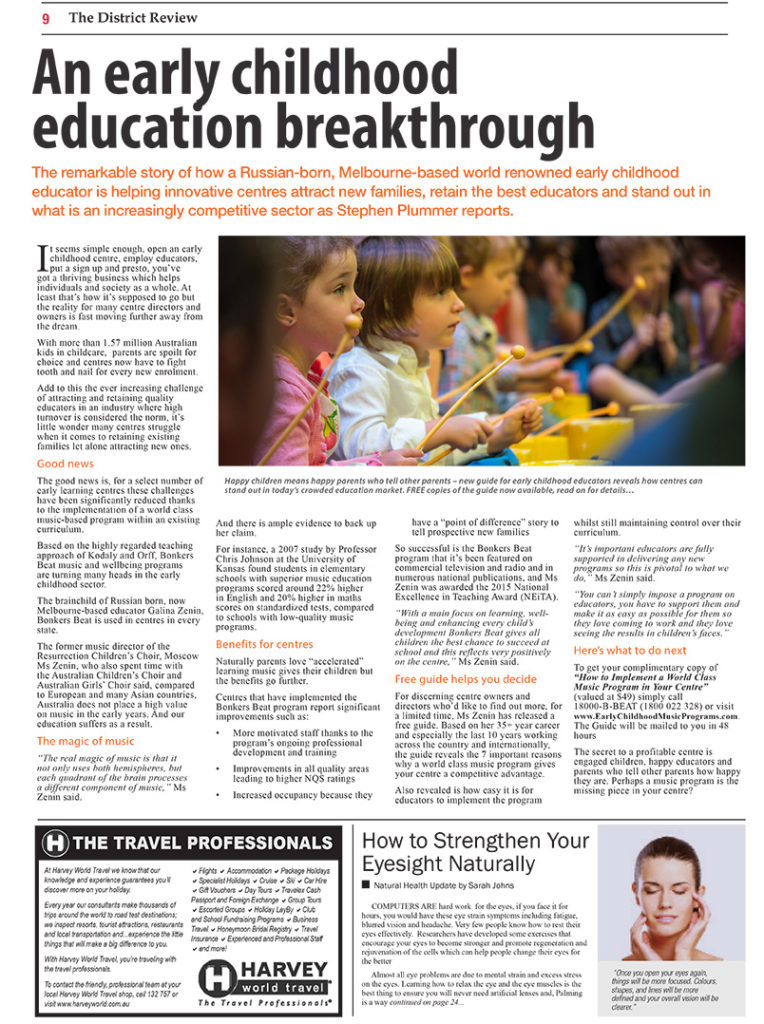 ASG Early Horizons Issue 1 2017
Q&A with Galina Zenin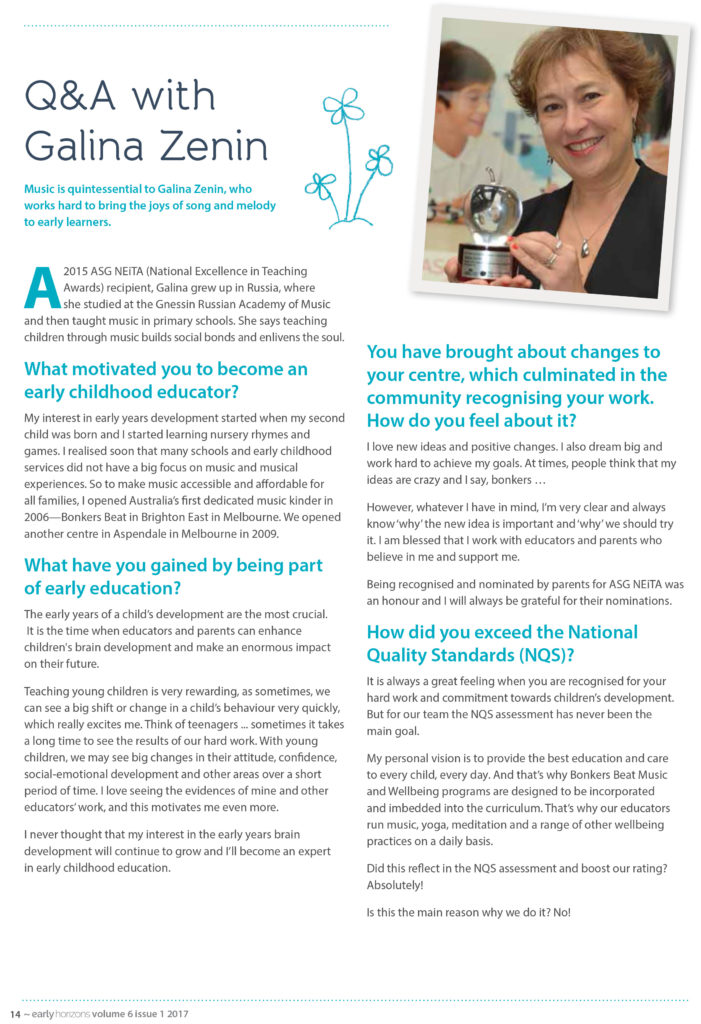 Australian Childcare Alliance, Queensland  
Early Edition, Winter 2017 – 'Learning How To Listen – A Personal Reflection of Reggio Emilia'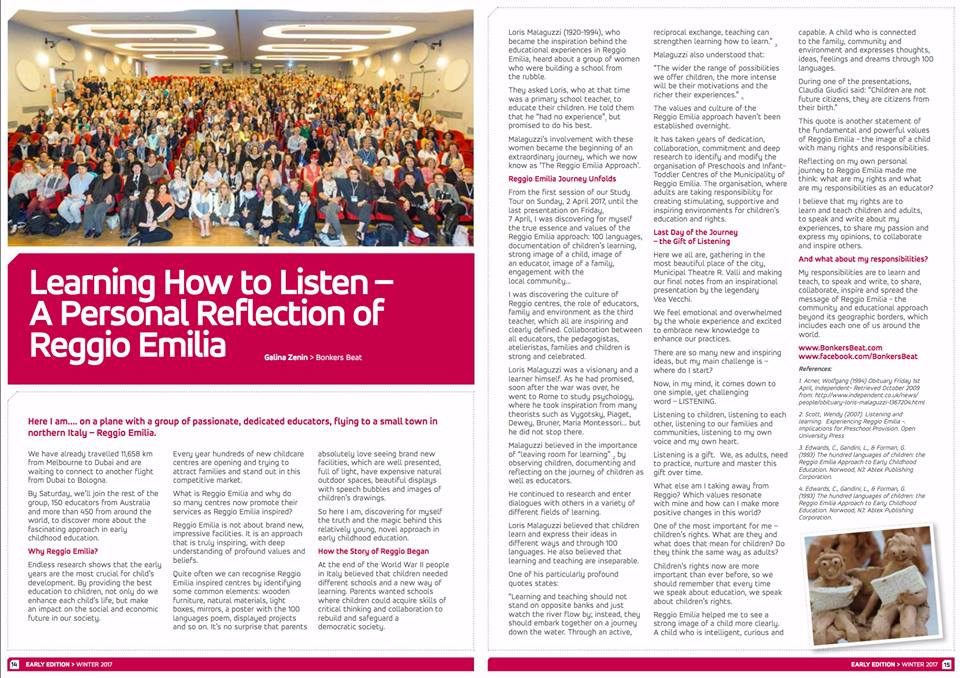 Montessori Australia Foundation eBulletin – June 2016
NEiTA Award Announcement
Australian Childcare Alliance, Queensland  
Early Edition, Winter 2016 – 'Shaping the Next Generation with a Holistic Approach'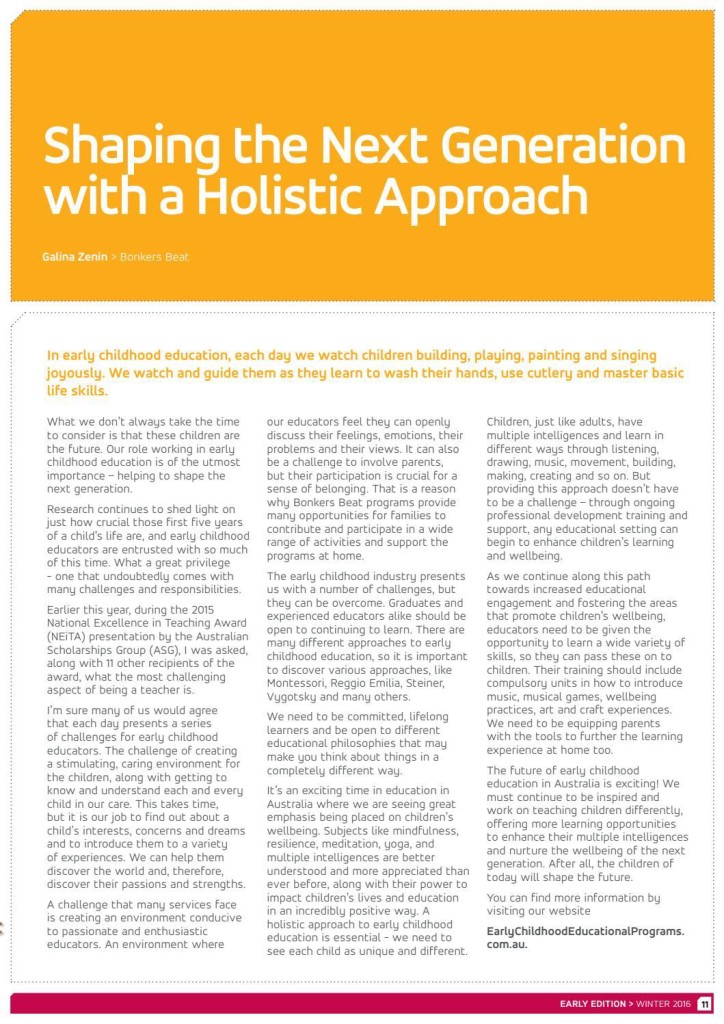 CareforKids – April 2016 Issue
'The Power of Music: Boosting young children's social and emotional skills'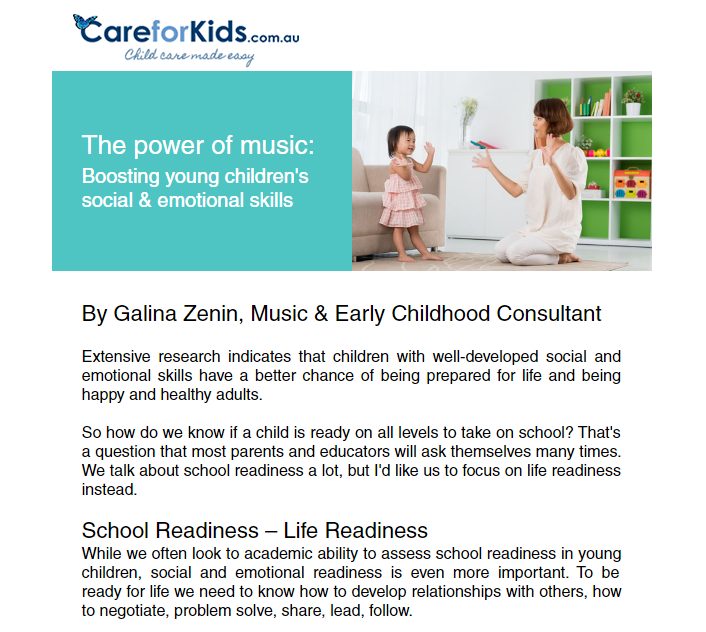 2015 ASG National Excellence in Teaching Awards
National Award Recipient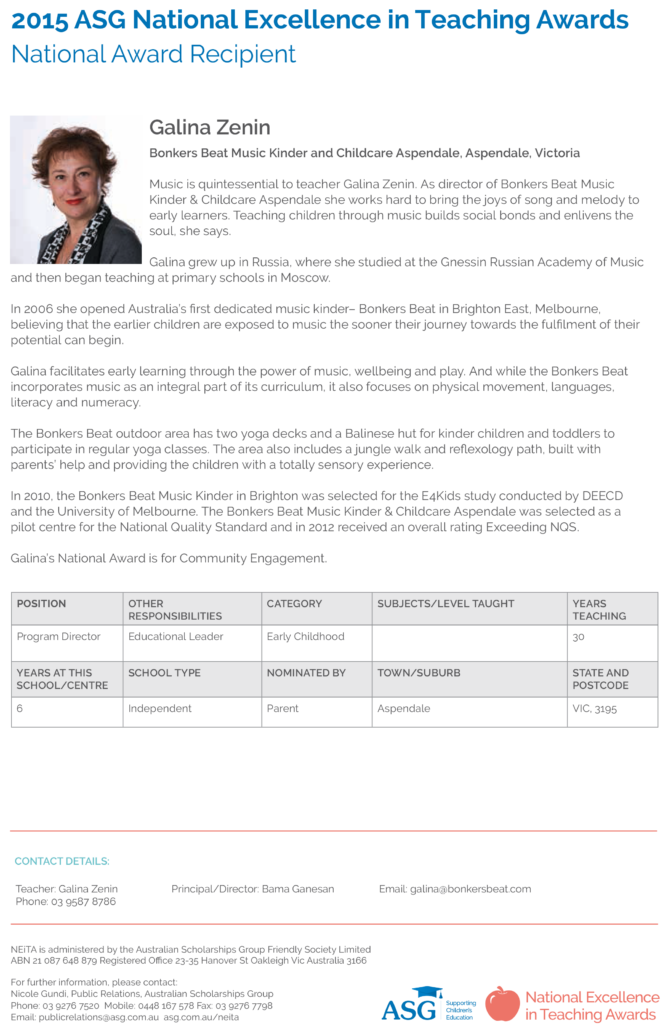 2015 ASG NEiTA National Award Recipients Media Release
Media Release Marriage of Music and Learning wins National Award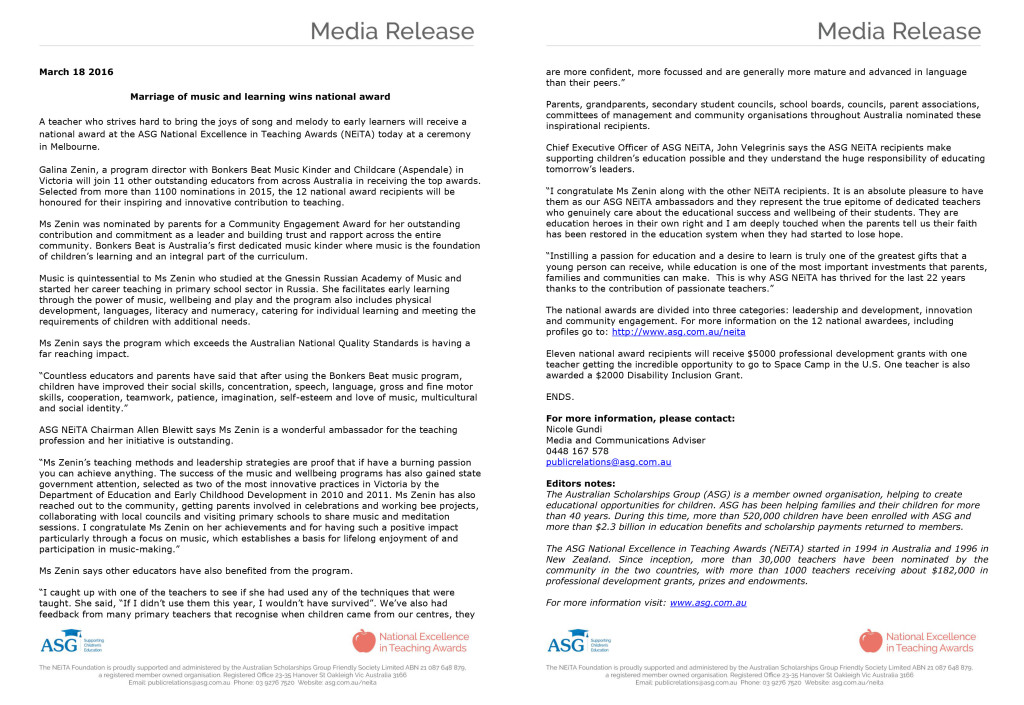 CareforKids – October 2016 Issue
'Benefits of Teaching Children Through Music'
CareforKids – November 2016 Issue
'The  Power of Music: stimulating children's brain development' Part 2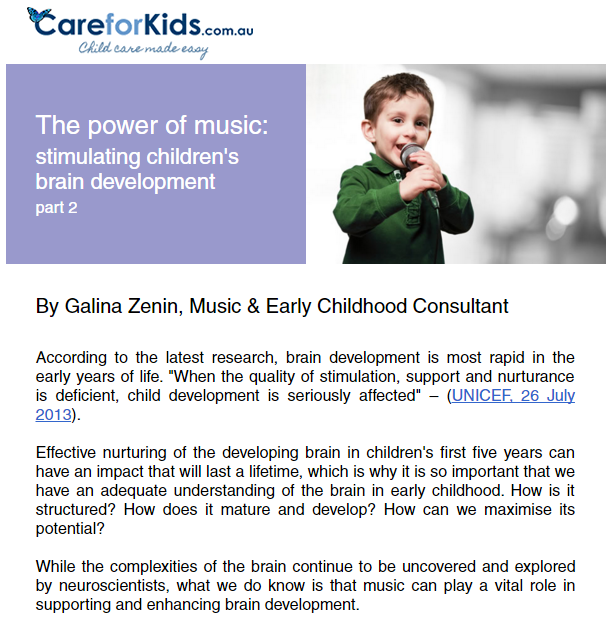 CareforKids – February 2016 Issue
'The Power of Music: Enhancing young children's wellbeing'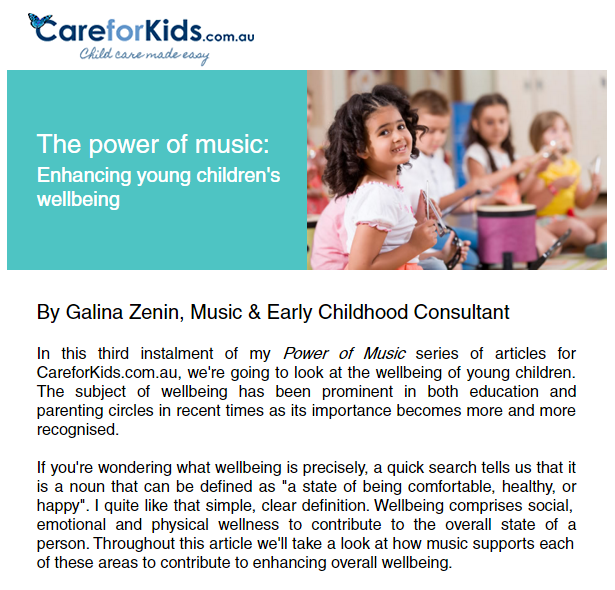 Australian Childcare Alliance, Queensland  
Early Edition, Autumn 2016 – 'Sing Your Way to Smooth Transitions'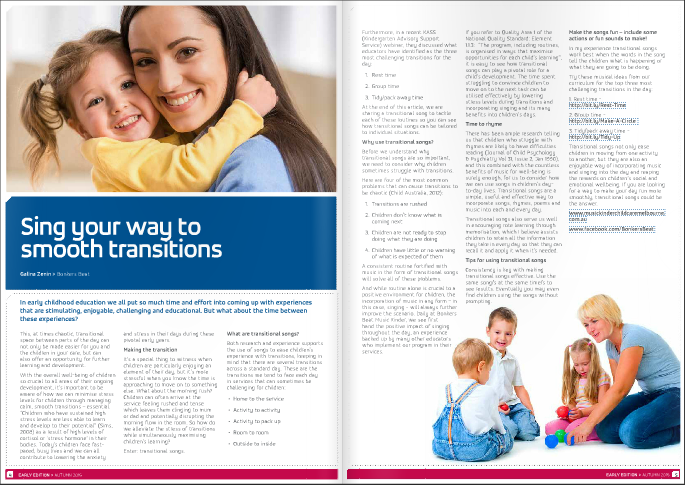 Australian Childcare Alliance, Queensland  
Early Edition, Spring 2015 – 'Three Reasons Some Educators are Lacking Motivation'
Peninsula Kids Magazine 
Spring 2015 – 'The Merits of Meditation'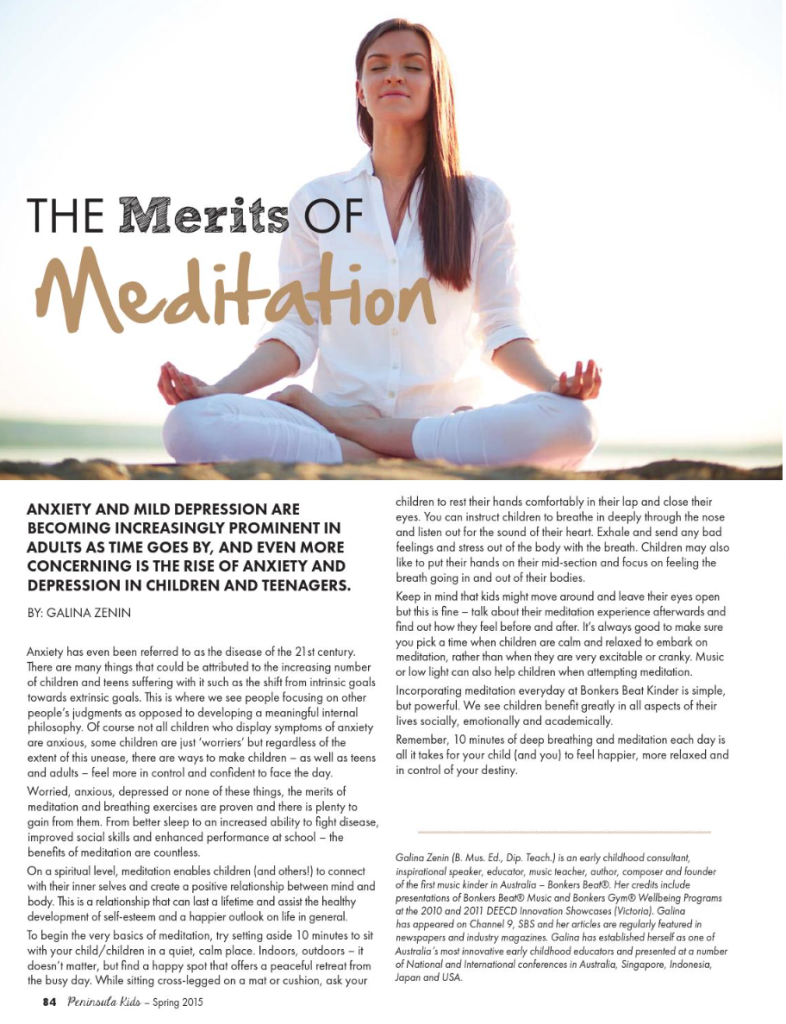 Australian Childcare Alliance, Queensland
Winter 2015 – 'Teaching Children Through Music Today to Create a Better Tomorrow'
Kid Magazine, Issue #23
June/ July 2015  – 'The Magic of Music'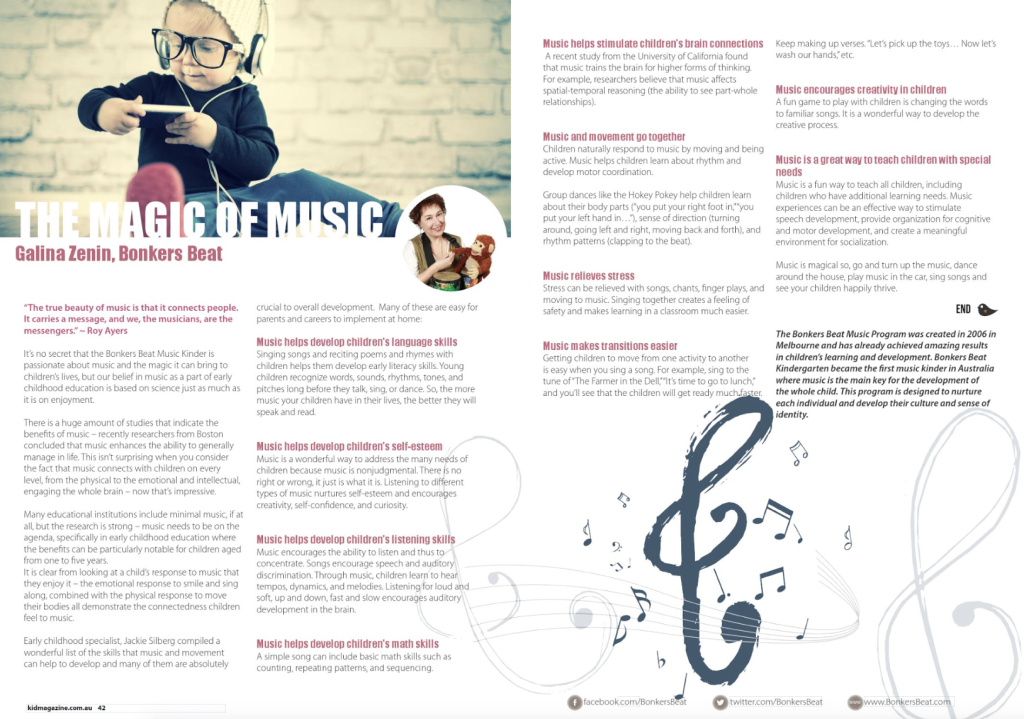 Bayside Mamamag, Melbourne
May 2015 – '5 Benefits of Music Everyday'
Mordialloc/ Chelsea Leader Newspaper
27 May 2015 – 'Groovy Program'

'Swings & Roundabouts' Early Childhood Council NZ
Autumn 2014 – 'Open Heart for Music Opens Mind for Learning'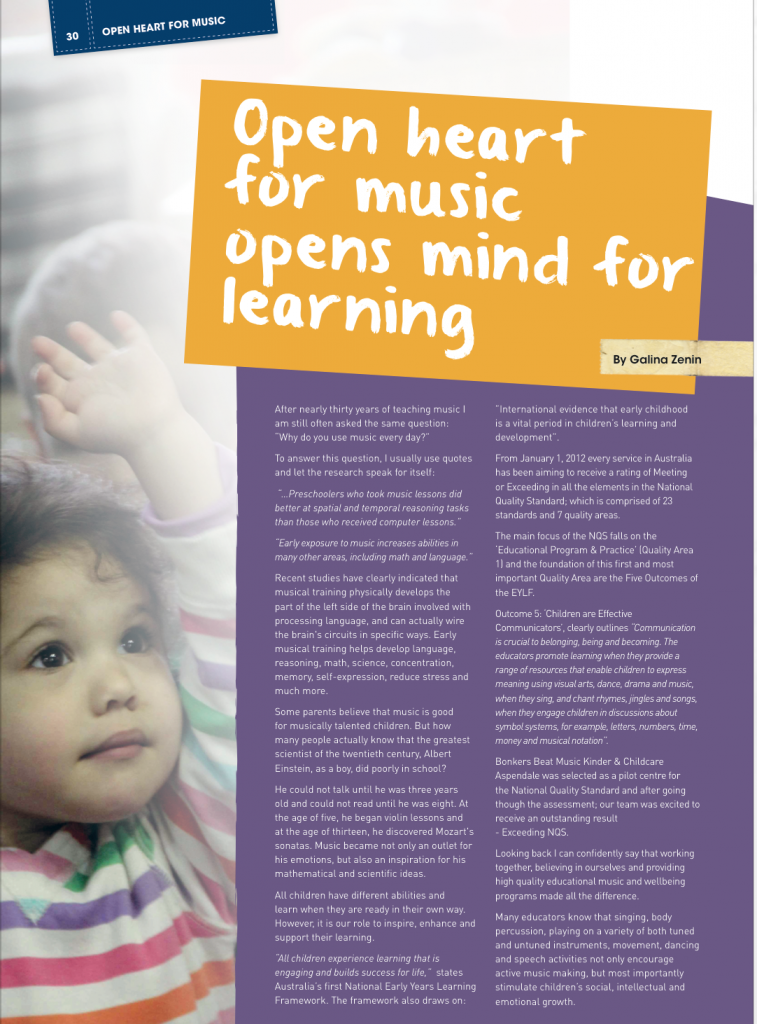 World Class Curriculum in Practice
– Galina speaks about the Bonkers Beat programs and how she developed the program curriculum. The focus on child development means that outcomes and results are noticeable quickly.
Local Knowledge
– Galina talks about Bonkers Beat Music Kinder and her future plans as an educator.
Children Play to a Different Beat
– Galina speaks with Wes Hosking about the void left by ABC Learning Centres and how she hopes to fill the void with a new form of Kinder that focuses on music.